Ford Servicing and Repairs in Medford, NJ
If you're in need of servicing or maintenance on a Ford vehicle near Medford, NJ we welcome you to have it all taken care of right here in our service center at
Medford Ford
! We understand how important it is to have a vehicle that you can depend on, and when something goes awry with your vehicle, it's important to have it resolved quickly so as to not damage any other function of your vehicle, and to have it resolved affordably to save you any hassle or headache. We strive to provide all of our customers here in
Medford, NJ
and those nearby in
Mount Laurel, Mount Holly, NJ; Voorhees, and Hammonton
with the knowledge and expertise surrounding the repair and servicing of Ford vehicles that they need to get all of their vehicle's issues diagnosed and resolved in the quickest, most convenient, and most affordable manner possible.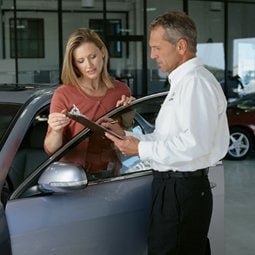 Our Team of Expertly Trained Ford Technicians Specialize in All Things Ford
Whether you're in need of regularly scheduled maintenance, like an oil change, tire rotation, battery diagnostics, or state inspection, or you require something more hands on like brake servicing, engine repair, transmission service, alignment, or anything else involved in getting your Ford vehicle back in like new condition again, we have a team of expertly trained Ford technicians here with the latest diagnostic tools and equipment to get the job done quickly and correctly every time. If you know that your vehicle is going to need servicing, we encourage you to take a minute and schedule your next servicing using our service scheduler tool, or if something happens unexpectedly, we encourage you to bring it into our service center at first sign of something gone wrong. While other third party service centers in the area may use what they have in stock to fix your vehicle, we use only the genuine Ford parts, accessories, and lubricants that were designed, tested and certified to be used on your specific model, in order to make sure that your vehicle is going to continue to perform at the highest level possible for many more miles down the road.
Whether your Ford vehicle is currently in need of servicing or maintenance or you want to stay ahead of any upkeep potentially down the road, we welcome you to join us here at Medford Ford to have all of your vehicles issues diagnosed and repaired in no time!